Revolutionizing Technology: ParkingAdda bags Top Tech Award for Empowering the Future
By ANI | Published: April 19, 2023 05:31 PM 2023-04-19T17:31:47+5:30 2023-04-19T17:35:07+5:30
Mumbai (Maharashtra) [India], April 19 (/PNN): The 21st century NEW AGE MILLENNIAL purchasing behavior pattern has seen a remarkable ...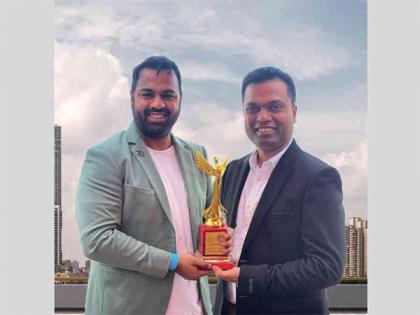 Next
Mumbai (Maharashtra) [India], April 19 (/PNN): The 21st century NEW AGE MILLENNIAL purchasing behavior pattern has seen a remarkable transition. This transition is in direct variation with respect to their increase in their desire to possess more / upgraded vehicles. With the on-going progression & addition of more and more 4 legged automotive on the roads the addition to the OMINIPRESENT PARKING CHAOS, has made the MUMBAIKARS many red flags.
To this doomed situation PARKING ADDA, an app from Mumbai, Maharashtra-based BDS Services Pvt. Ltd a new age tech savvy company has acted like a BLESSING IN DISGUISE. Their efforts were recognized when the Shakti Awards 2023 was bestowed to ParkingAdda's founders Manoj Kori & Vijay Gupta, by Hon'ble Deputy CM Devendra Fadnavis for their cutting edge ''Contribution to Tech Entrepreneurship'' recently.
According to a survey conducted by Hiyacar, a UK-based car-sharing firm, Mumbai is the most stressful city in the world to drive in. It is also placed fifth in worldwide vehicular congestion on the TomTom traffic index of 2021. The city has one parking place for every 120 automobiles, yet only 45% of all public parking spots are used properly. There is mayhem everywhere, and there is no assurance of finding a parking place. As a result, motorists and law enforcement are at odds frequently. Automobiles, particularly four-wheelers, face a huge challenge when it comes to "Parking Space." But, the stress over parking space keeps rising all over India, not just in Mumbai.
To ease the stress, BDS (Business Development Services) innovated & plat formed an amazing product line ParkingAdda incorporated as Parkingadda Private Limited in the year 2021. ParkingAdda is an app-based service plat formed after years of R&D, which helps you easily find and reserve parking spots online. Leveraging on the experience of their in-house STZ TechnoSystems Pvt. Ltd team they were able to not only launch ParkingAdda quickly but also create demand for the same. 'ParkingAdda' is a like a friend who resolves your parking space problem easily with a cutting edge parking solution in this mayhem age of cluttered congestion.
The innovative concept of ParkingAdda arose from the difficulties that people confront while trying to find a parking place in the midst of regular life. Our revolutionary digital platform is intended to help not just the common automobile traveler, but also the government's traffic control initiatives. Our Mission is to minimize disorgzed parking services in India and avoid traffic violations by putting all accessible parking places on a digital platform. Our service statement is provision of "PARKING LIKE A BOSS" service.
Winning this award is a testament to their hard work, dedication, and expertise in the field as well as a significant achievement for any tech company or individual, especially need-based startups like ParkingAdda. It is this recognition that has been a booster for developing groundbreaking solutions that can change the way the WORLD PARKS. This platform will open the window to a whole new world of opportunities, network, funding opportunities, and fueled the company's reputation. This recognition will boost the company's confidence, motivate the team, and encourage them to continue working on developing even better solutions. It can also lead to collaborations with other compes or research institutions, leading to new research opportunities, funding, and partnerships.
The origin of BDS aces back to 2009 as Balaji Data Solutions. With the growth & global perspective we abbreviated to BDS Services but have expanded as with Global footprint (Amsterdam, UK, UAE,) in addition to the mass existing setup in India. The Company is certified under ISO 27001:2013 and ISO 9001:2015 and at the same time is a GDPR compliance orgzation. Being a GDPR compliance speaks volumes about the credibility of this orgzation. It serves 300 clients in 20+ countries across different industries. Apart from ParkingAdda, the Parent company BDS Services runs several other setup including STZ Soft, Feenixx Hospital, B2B LeadsAdda, and BDS Legal Services.
Founder Manoj Kori who now serves as CEO exhibits a humtarian approach in each endeavor. His 15+ experience and his passion with persistence lead him to build an empire which is a Idea Brewery house to multifaceted growth, and development. His energy is not only inspiring but is contagious which replicates & motivates others. BDS is a result of his passion & entrepreneurial urge, where he can house multiple talents & innovation under one roof.
Co-founder Vijay Gupta who currently serves as COO has a vast experience in the database management industry. His people management skill & focus on the vision has helped to fuel the company in the right direction. His belief in people & Inclusion with diversity has steered the growth at an accelerated rate. His 20+ years of expertise in round-the-clock monitoring & management provide the guided path toward success for BDS. He is the PIED PIPER of the orgzation & his cogent as well lucid guidance enabled BDS family to be on course with their goals.
This award is just a start & the company claims to keep excelling in the field of innovation to help to strive for a better tomorrow. The Star Duo CEO Manoj Kori & COO Vijay Gupta claim, " By striving for excellence in all that we do, we can make a mengful difference in the world and leave a positive legacy for future generations."
This story is provided by PNN. will not be responsible in any way for the content of this article. (/PNN)
Disclaimer: This post has been auto-published from an agency feed without any modifications to the text and has not been reviewed by an editor
Open in app