Documentary on Osho Rajneesh by Italian filmmaker Lakshen Sucameli to be screened at Pune film festival
By Lokmat English Desk | Published: February 3, 2023 08:55 PM 2023-02-03T20:55:23+5:30 2023-02-03T21:18:03+5:30
A bio-documentary on Osho Rajneesh titled ' Osho The Movie' by Italian filmmaker Lakshen  Sucameli is going to be ...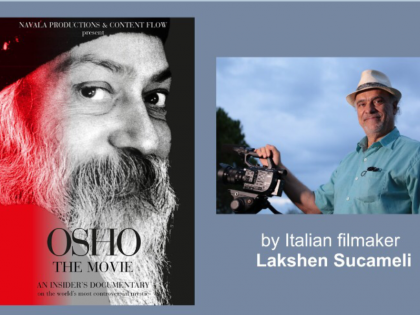 Next
A bio-documentary on Osho Rajneesh titled ' Osho The Movie' by Italian filmmaker Lakshen  Sucameli is going to be premiered in Pune Film Festival tomorrow. It will be screened at Pune PVR The Pavilion Mall, Auditorium 6, at 12.15 pm. The documentary will also be screened on 14 th of February in Mumbai as part of the 13th Yashwant International Film Festival organised by Maharashtra government. Director Lakshen says, "This docu-series examines all elements of Osho's life, including the contentious ones." It brings new light through the stories of the people who were associated with Osho.
It shows with a wider perspective what Netflix's Wild Wild Country didn't explore enough.'Osho The Movie documentary is one hour 40 minutes length and Director Lakshen has made another five part docuseries 'Ten Thousand Shades of Osho'. The series is divided into five sixty minute episodes covering different periods of Osho's life.The film screening is happening in Pune while Pune Osho Ashram is mired with court cases and controversies. The feud between Osho International Foundation and many Osho disciples has been ignited by the proposed sale of a 2-acre plot of land inside Osho Ashram, Pune.
Why Osho was labelled as Sexguru?
Film director Lakshen in conversation with this writer says 'He was erroneously labelled the sex guru because he had the courage to talk about sex 50 years ago in a country where sex was a taboo and still to a certain extent is! He has been wrongly evaluated by the vested interests of the mainstream powers. Great philosophers like Socrates met a similar fate'
Why Mainstream does not consider him as Spiritual Guru?
Mainstream isn't interested in real spiritual gurus, but mainly in 'spiritual politicians' and
'spiritual business men'...
Is Osho still relevant to India and the World ?
Is Osho more relevant than ever as we are witnessing liberty and openness in society  including that of sex? Director Lakshen says,'' This might create more appeal in countries like India but Osho is relevant not only because of more freedom in the society. Osho is relevant also in more liberal countries where true spirituality and meditation is missing. Especially in US and Europe. His message for a New Man is that of Zorba the Buddha, a man who can enjoy Freedom and Celebration together with the search for his interiority and eternal soul!
Docu-Series 'Ten Thousand Shades of Osho'
The director and writer of the docu-series ' Ten Thousand Shades of Osho' has explored many facets that were not shown in 'Wild Wild Contry' , e.g. the mysterious three days that Osho spent in an Oklahoma jail cell, incarcerated under a false name and allegedly poisoned. It also shows how the US government used its political clout to block several western nations from offering asylum to Osho after he was expulsed from the United States
The Docu-series also covers Osho's return to India, leading up to his premature death in 1990 at only
59 years of age - still a subject of investigation.
Film by Osho Sanyaasi will be considered as propaganda piece Sucameli has the advantage of an insider's view of the philosophy and practice of Osho's ideas. The film provides the perspectives of not only people who are ardent devotees, but also those who abandoned the belief and several who are hostile to Osho. Sucameli says " Nobody was indifferent. He clarifies that 'Osho the Movie' is not a propaganda piece; on the contrary it "examines all elements of Osho's life, including the contentious ones.''
Who is Lakshen Sucameli?
Lakshen is an Italian national and his original name is Sucameli. Lakshen name was given by Osho to Sucameli. Sucameli was born in Rimini , Italy in 1956 had travelled to India in 1978 to meet Osho, then considered one of the most controversial spiritual figures of the world.He has lived in the presence of Osho in his ashram/ communes in Pune( India), and Orgeon(the US).
Lakshen Sucameli summarizes his long association with Osho "The first time I met Osho was in 1978. Since then, I have had two purposes in life  to know myself and to share his vision. When I started working as a filmmaker, I knew that one day, I would make a film about him.
Open in app