Bhujbal is 20 years too late to the OBC politics
By Deepak | Published: November 17, 2023 06:31 PM 2023-11-17T18:31:29+5:30 2023-11-17T18:31:57+5:30
State Food and Civil Supplies Minister Chhagan Bhujbal has found a fresh lease of life after he separated from ...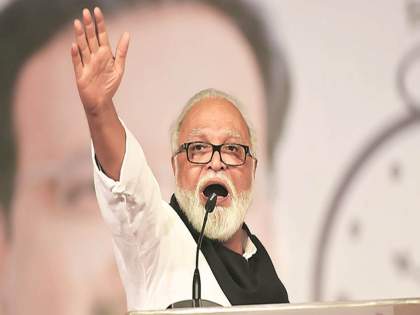 Next
State Food and Civil Supplies Minister Chhagan Bhujbal has found a fresh lease of life after he separated from Sharad Pawar, his second mentor in politics and has been in the limelight for taking head on Maratha reservations activist Manoj Jarange. Bhujbal has been a firebrand leader but the Telgi tint and the jail stint for alleged graft in Maharashtra Sadan had stunted his political growth. He barely grabbed the headlines- very unlike the Bhujbal of early 2000s when he was at the peak of his political muscle. 
Bhujbal joining the nephew Ajit Pawar in his rebellion against Sharad Pawar raised eyebrows, but it was seen as his attempt to stall any further action by the much feared Enforcement Directorate against him and his family members. He made some bold statements against Pawar Sr too but they were more in line with the need of the hour for the rebel faction. It is his latest move to attack Maratha reservation activist Manoj Jarange that is bringing Bhujbal back to the political center stage which he always aspired to grab.
Bhujbal has a very simple appeal- we are not against reservation for Maratha community but it should not eat into the Other Backward Castes' quota. Bhujbal comes from the Mali caste, one of many castes from the OBC. He has been trying to occupy the political space beyond the dominant Maratha politics in the state, but has not been successful for various reasons. Back in 2000s, he tried to strengthen Samata Parishad, an umbrella organisation that aimed to bring together non-Maratha caste politics. But his attempt did not go well with the Nationalist Congress Party leadership, most of whom were Marathas themselves, and the raids on Samata Parishad office bearers by the police controlled by the then Home Minister R R Patil became talk of the town. Angry Bhujbal took his plaint to the party supremo Sharad Pawar who asked both Bhujbal and Patil to take a chill pill. 
Bhujbal was trying his hand in national politics and held OBC rallies in Bihar, Rajasthan and even at the Ramlila Grounds in Delhi. But then the allegations of graft against Bhujbal over Telgi scam started gaining traction and Bhujbal went in a defensive mode. He even lost his ministerial berth and also the higher perch that he enjoyed in NCP following those allegations. He survived the storm, hoping to fight another day if he lived on. But the Modi wave in 2014 crashed Bhujbal's ambitions of a comeback. It was his arrest following corruption allegations in the Maharashtra Sadan in Delhi that broke the backbone of Bhujbal's career. The Bharatiya Janata Party-led government went after the Bhujbal family with full gusto and not just Bhujbal, but even his nephew Sameer was arrested. His son Pankaj too was on the radar. Bhujbal secured bail after almost two years, but understandably, he was no longer the fierce leader that he once was.
It is therefore surprising to see Bhujbal back in action with full force, ostensibly for the OBC cause. In the Jalna rally, Bhujbal was extremely aggressive and went after Jarange who had been making statements targeting Bhujbal. It is clear that Bhujbal, either by his own will or by someone else's design, has decided to become the face of anti Maratha politics. He insists his only aim is to protect OBC interests. Unfortunately for Bhujbal, if he wants to be the messiah of the OBCs in state, that boat has sailed long ago. No matter how much he tried, he cannot just wish away the ghosts of Telgi scam or the ED action that landed him and his nephew in jail.
 
Open in app