Expanding Horizons: Dhruv Sachdev's Production House Zero Begins Films Unveils AI Lab and New Services
By ANI | Published: November 21, 2023 11:58 AM2023-11-21T11:58:58+5:302023-11-21T12:00:09+5:30
SRV Media New Delhi [India], November 21: In a mere two years, Zero Begins Films, founded by internationally acclaimed ...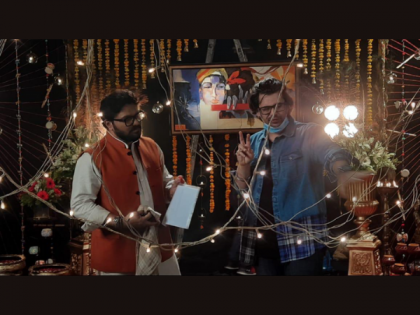 Next
SRV Media
New Delhi [India], November 21: In a mere two years, Zero Begins Films, founded by internationally acclaimed filmmaker Dhruv Sachdev, has left an indelible mark in the world of cinema and visual storytelling. This production house, operating across the three verticals of Feature Films, Music Videos, and Corporate Productions, has not only earned accolades and acclaim but also distinguished itself through its powerful AI-driven capabilities.
In just two brief years, Zero Begins Films has given birth to two international award-winning films, "SIFAR" (available on Amazon) and "LockDown" (in collaboration with Shemaroo). These films have collectively amassed an impressive 52 awards at prestigious international film festivals such as the Los Angeles Film Awards, Gold Movie Awards London, and the Paris International Film Festival. Zero Begins Films doesn't merely produce movies; it engineers cinematic experiences that deeply resonate with audiences worldwide.
Zero Begins Films showcases its versatility through the creation of 130 music videos spanning different genres. Their collaborations with industry-leading labels, including TIPS Music, Zee Music, and Universal Music, illustrate their mastery of visual storytelling and their ability to capture the soul of music.
Furthermore, Dhruv Sachdev's directorial expertise shone in one of India's most significant musical shows, "TIPS Rewind," featuring a constellation of stars like Sonu Nigam, Babul Supriyo, Ankit Tiwari, Navraj Hans, Hariharan, Shaan, and more. This underscores Zero Begins Films' status as a creative powerhouse within the entertainment industry. The show earned the Best Digital Content 2022 award at the Talenttrack Awards.
On the corporate front, Zero Begins Films has left a lasting impression by collaborating with a prestigious list of clients, including Skoda, Maruti Suzuki, Morris Garages, TWG Tea, The Leela Hotels, Cream Bell, Ampverse, DMI Finance, Dixon Technologies, Windshield Experts, Asahi India Glass, RookieUSA, Nike and Infinity Learn, among others. Their TVCs and campaigns for these clients have played a pivotal role in driving brand success and accomplishing marketing objectives.
Zero Begins Films transcends geographical boundaries. Through a partnership with Ideal Advisory Services, a Canadian network firm, they manage content for Port Hope and the City of Sarnia. This international collaboration underscores Zero Begins Films' global vision and its dedication to engaging diverse audiences.
As Zero Begins Films embarks on the next phase of its remarkable journey, the introduction of new services becomes not just a strategic move but a vital response to the evolving landscape of creative industries. Recognizing the dynamic nature of audience engagement, Zero Begins Films is expanding its repertoire to include Digital Marketing, Influencer Marketing, and Out-of-Home (OOH) Advertising.
In an era where innovation and adaptability are paramount, the incorporation of these services aims to provide clients with holistic solutions that extend beyond traditional filmmaking. The need for such diversified offerings arises from the ever-changing demands of a global market, where storytelling goes beyond the silver screen to encompass immersive digital experiences.
In particular, the establishment of an AI Lab stands as a testament to Zero Begins Films' foresight and commitment to pioneering advancements. Envisioned as a creative hub, this AI Lab will not only enhance existing capabilities but also spearhead ground-breaking AI-based campaigns. In the realm of Creative Services, GEN AI is poised to revolutionize visual storytelling, offering unparalleled possibilities for narrative exploration, visual aesthetics, and audience connection.
Zero Begins Films, by investing significantly in this cutting-edge technology, is positioning itself at the forefront of a new era in creative expression. Through the synergy of human creativity and AI innovation, the production house is poised to redefine the boundaries of what is achievable in the field of Creative Services, ensuring that every campaign envisioned is not only captivating but also leaves a mark for the audience. As the horizon expands, Zero Begins Films remains steadfast in its commitment to excellence, innovation, and crafting experiences that resonate across cultures and generations.
Zero Begins Films is a dynamic and visionary production house founded by internationally acclaimed filmmaker Dhruv Sachdev. In just two years, it has achieved remarkable success and acclaim in the world of feature films, music videos, and corporate productions. With a diverse portfolio and a commitment to creativity, Zero Begins Films is a trailblazer in the entertainment and advertising industries. ZBF operates out of Delhi, Mumbai, and Goa in India and maintains production facilities in London.
(ADVERTORIAL DISCLAIMER: The above press release has been provided by SRV Media.will not be responsible in any way for the content of the same)
Disclaimer: This post has been auto-published from an agency feed without any modifications to the text and has not been reviewed by an editor
Open in app