JK Cement earns Limca Book of Records for historic school ramp construction initiative
By ANI | Published: April 1, 2023 01:12 PM 2023-04-01T13:12:50+5:30 2023-04-01T13:15:10+5:30
New Delhi [India], April 1 (/NewsVoir): JK Cement Ltd., has been honoured by the Limca Book of Records, for ...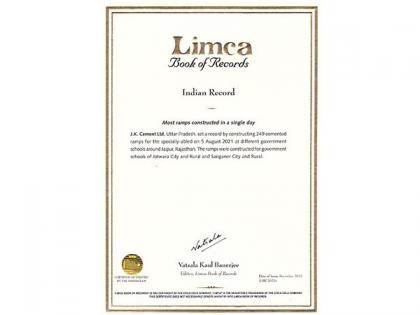 Next
New Delhi [India], April 1 (/NewsVoir): JK Cement Ltd., has been honoured by the Limca Book of Records, for constructing 249 ramps in 249 schools in Rajasthan in a single day under campaign "Banaye Har Raah Aasaan". The construction of the ramps was completed in one day with the support of over 2000 JK Cement employees, dealers, contractors & labour.
Sharing his view on this momentous achievement Love Raghav, Head branding, JK Cement Ltd. said, "JK Cement as a brand has always believed in giving back to the society in one way or other, our focus on social marketing campaigns gives us opportunity to serve society and brand both simultaneously. This achievement is a result of in-depth planning & execution of entire JK Cement team."
Adding to this Cluster head (sales), Haresh Khushal said, "It is a proud moment for the company to have set this record. The school ramp construction initiative was executed without any external agency & over 2,000 people got involved to create the history, congratulations to the entire JK Cement team."
JK Cement Ltd. is one of India's leading manufacturers of Grey Cement and one of the leading White Cement manufacturers in the World. Over four decades, the Company has partnered with India's multi-sectoral infrastructure needs on the strength of its product excellence, customer orientation and technology leadership. JKCement's operations commenced with commercial production at its flagship grey cement unit at Nimbahera, Rajasthan in May 1975.
The Company has an installed capacity of 19.00 MTPA of Grey Cement (including the new expansions), making it one of the top cement manufacturers in the Country. The Grey cement business has a strong Pan-India presence across 15 states with an enhanced reach in the states of Uttar Pradesh and Madhya Pradesh.
With a total White Cement Capacity of 1.48 MTPA and Wall Putty capacity of 1.33 MTPA, JK White Cement is sold across 36 countries around the globe and the Company has a strong international presence with two subsidies, JK Cement Works Fujairah FZC and JK White Cement (Africa) Ltd.
For more information, please visit JK Cement www.jkcement.com.
This story has been provided by NewsVoir. will not be responsible in any way for the content of this article. (/NewsVoir)
Disclaimer: This post has been auto-published from an agency feed without any modifications to the text and has not been reviewed by an editor
Open in app