Karan Johar unveil motion poster of 'Ae Watan Mere Watan' at IFFI 2023
By Lokmat English Desk | Published: November 21, 2023 04:14 PM 2023-11-21T16:14:46+5:30 2023-11-21T16:15:29+5:30
Sara Ali Khan, along with Karan Johar, unveiled the first motion poster of their upcoming film, 'Ae Watan Mere ...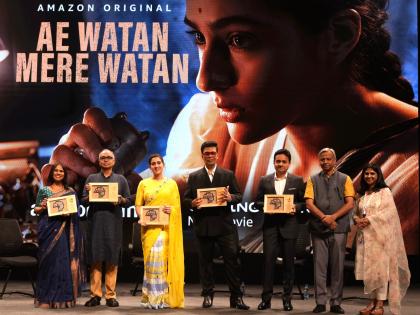 Next
Sara Ali Khan, along with Karan Johar, unveiled the first motion poster of their upcoming film, 'Ae Watan Mere Watan', at the 54th edition of the International Film Festival of India (IFFI), which is ongoing in Goa. Prime Video presented an exclusive showcase of its much-awaited Original movie Ae Watan Mere Watan, a thriller drama inspired by true events, at the ongoing 54th edition of International Film Festival of India (IFFI), Asia's oldest and India's most iconic international film festival. A thriller-drama inspired by true events, Ae Watan Mere Watan, is directed by Kannan Iyer and has been written by Darab Farooqui and Iyer. A Dharmatic Entertainment Production, the film is produced by Karan Johar, Apoorva Mehta and Somen Mishra. While the movie is scheduled to premiere early next year, Prime Video treated the audience at IFFI to an exclusive curtain-raiser, leading with a heart-rendering and immersive performance of the track 'Qatra Qatra' by Sukhwinder Singh at the opening ceremony attended by thousands of attendees. This was followed by a fascinating discussion on 'Drawing inspiration from history to create an immersive cinematic experience for today's audiences' with the creators and talent on November 21.
The opening ceremony at Dr Shyama Prasad Mukherjee Indoor Stadium pulsated with energy, emotions, and positivity as Sukhwinder Singh, one of the most talented singers in the country, mesmerized the audience with his performance of this patriotic song. In attendance were Sara Ali Khan, producers Apoorva Mehta and Karan Johar, director Kannan Iyer, accompanied by Aparna Purohit, head of Originals, India & Southeast Asia, Prime Video. The cast and creators thanked the organizers at IFFI, for creating a wonderful platform for Indian stories and storytellers to showcase their talent and body of work. Earlier this morning, Prime Video reinforced the emotions the song had evoked, with a panel discussion held at the Entertainment Society of Goa, on the making of this thriller drama and its role in serving as a source of inspiration for modern-day audience. The session started with a felicitation by the Joint Secretary, Ministry of Information and Broadcasting, Mr. Sanjib Shankar. The 60-minute conversation focused on how India's rich historical heritage can be brought to life and used to garner lessons for a positive social and cultural impact in present day India through the powerful medium of storytelling. The session saw producers Karan Johar and Apoorva Mehta of Dharmatic Entertainment and Aparna Purohit of Prime Video, discuss how filmmakers and creators use the art of storytelling to portray the history and its varied lessons with the help of cinematic brilliance and immersive world building for modern audience.  Kannan Iyer, the director, and co-writer of the movie stressed upon the various challenges one faces when a narrative is based on true historical events, critical role of world-building to depict the era the story is based in and bring forth the quintessence of the narrative. Lead actor Sara Ali Khan shared on how such content not only keeps rich history alive, but motivates the younger generation to draw inspiration from the same to create a better tomorrow.
 "At Prime Video, we're committed to delivering compelling and rooted stories that resonate with our viewers while showcasing the diverse cultural and historical tapestry of our nation," shared Aparna Purohit, head of Originals, India & Southeast Asia, Prime Video. "With Ae Watan Mere Watan, we are delighted to bring forth an untold chapter from the deep annals of our history, a tribute to the unsung heroes who shaped India's path to freedom. This riveting narrative, accompanied by a heart-pounding soundtrack and the exceptional portrayal of Sara Ali Khan as a freedom fighter, creates a poignant and unforgettable experience that proudly echoes… Ae Watan Mere Watan!"Producer Karan Johar shared, "IFFI is in its 54th year and is a truly majestic and magnificent festival which has grown from strength to strength. Every time I have been here, I have always felt the infectious energy of true love for cinema." He added, "Ae Watan Mere Watan is truly inspiring, and we just needed this story to be told. We have tried to tell some stories, inspired by true events that have spoken volumes about the love for our country, and this film is that. We are very excited to be here at IFFI, for the audience to catch a glimpse of this film that will be premiering next year." Added Producer Apoorva Mehta on the world-building of the film, "When you are making a period film, it is important to be true to that time and period. There was a lot of work undertaken through the creative process to recreate the look and feel of the pre-independence era. I am happy to share that we have created a beautiful film, which we cannot wait for the world to watch. Ae Watan Mere Watan is a tribute to the unsung heroes and the fight that they put up in various forms. The story has a very important message to stand up for your rights and injustice, and I am confident that the audience will enjoy this film."Co-writer and director Kannan Iyer shared, "We have remained true to the essence of actual events that took place during the Quit India Movement of 1942. Having said that, I would like to add that we have taken creative liberties to make this story engaging for the audience. I would like to share that Sara has been so open to every nuance of the character she plays. She is a modern young woman, who transformed into the part so seamlessly. I would like to thank her for being on this journey with me."Lead actor of the film Sara Ali Khan shared, "This is a story that deserves to be told. There is so much history that this country has to offer, so many unsung heroes. Their stories have the ability to inspire the nation and coming generations. Through this film we are attempting to showcase their sacrifices, their bravery and their love for the nation, during the freedom struggle. To me Ae Watan Mere Watan is the ultimate love story – love for your country is the epitome of love and that is what the story is about." Over the years, IFFI has established itself as a melting pot of myriad rich cultures and cinematic excellence, as it brings the world's most outstanding films and shows, as well as stellar creators, talent, and storytellers together under one roof. As one of Asia's oldest film festivals, it celebrates the rich cinematic excellence, creativity, and innovation that embodies the rich and vast entertainment ecosystem within India and from around the world.
Open in app