Krishna Dushyant Rana: Financial Discipline as the Backbone of Success
By Impact Desk | Published: September 20, 2023 06:46 PM 2023-09-20T18:46:27+5:30 2023-09-20T18:47:37+5:30
Financial discipline is often overlooked as a trait essential to entrepreneurial success. Yet, for Krishna Dushyant Rana, the Managing ...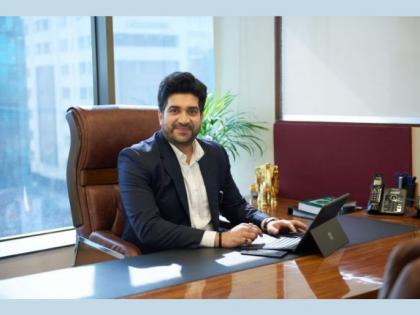 Next
Financial discipline is often overlooked as a trait essential to entrepreneurial success. Yet, for Krishna Dushyant Rana, the Managing Director of Platinum Industries Ltd., it's the cornerstone on which his company has been built. Rising from modest beginnings, Platinum Industries is now a leading name in the manufacturing of PVC and CPVC additives. The company's ascension to the top has been anything but accidental; it's the result of Rana's uncompromising commitment to financial discipline, a philosophy he passionately shared during his keynote speech at the Global Startup Summit 2023.
The Genesis of Financial Discipline
Krishna Dushyant Rana has been a staunch advocate of financial discipline right from the early days of his entrepreneurial journey. Even as he transitioned from a family trading business to a manufacturing conglomerate, financial prudence remained a guiding principle. His acute understanding of the financial landscape, combined with an education from the SP Jain Institute of Management Studies, made him an ardent believer in disciplined investment and meticulous budgeting.
The Role in Platinum Industries' Ascent
At Platinum Industries, financial discipline isn't just a buzzword; it's woven into the company's DNA. From strategic resource allocation to decisive capital investments, each aspect is carefully considered to maximize returns while minimizing risk. This fiscal responsibility has enabled Platinum Industries to reinvest in innovation, thereby maintaining a competitive edge in the market.
This keen sense of financial governance was also instrumental when Platinum Industries decided to go public. By maintaining a disciplined approach, Rana successfully navigated the regulatory landscape and secured an Initial Public Offer (IPO) that marked a significant milestone for the company.
A Blueprint for Aspiring Entrepreneurs
During his speech at the Global Startup Summit, Rana put forth a compelling case for financial discipline as an elemental force that fuels entrepreneurial success. He argued that a strong grasp of financial fundamentals equips business leaders with the tools necessary to turn visions into reality. As he rightly pointed out, funds often outweigh metrics and other terms like valuation when it comes to sustaining a business.
Measurable Benefits
Financial discipline doesn't just improve the bottom line; it also provides tangible, measurable benefits that have a long-lasting impact. For Platinum Industries, this meant not only a robust balance sheet but also the trust and credibility that come from sound fiscal management. As a result, the company has been able to attract top-tier investors, form strategic alliances, and carve out a strong market presence, both domestically and internationally.
A Journey Far From Over
For Krishna Dushyant Rana, the journey towards greater financial discipline is an ongoing process. With an IPO under his belt and the prestige of delivering a keynote at a prominent global summit, one might assume he's reached the pinnacle of success. Yet, as someone who understands that financial discipline is an evolving practice, Rana remains committed to refining and adapting his fiscal strategies to meet the ever-changing demands of the business landscape.
As evidenced by Platinum Industries' incredible rise to prominence, Krishna Dushyant Rana's philosophy on financial discipline has proven to be the backbone of his—and his company's—success. Whether it's for seasoned entrepreneurs or those just embarking on their business journey, Rana's insights offer invaluable lessons that go beyond mere financial metrics, painting a holistic picture of what it takes to achieve sustainable success in today's volatile economic environment.
This deep-seated belief in the merits of financial discipline doesn't just make Krishna Dushyant Rana a successful businessman; it establishes him as a visionary thought leader whose philosophies are well worth heeding.
 
Open in app