Reimagining Urban Spaces: The Tysen Knight Phenomenon
By influencedesk | Published: November 20, 2023 07:03 PM 2023-11-20T19:03:56+5:30 2023-11-20T19:04:34+5:30
In the vibrant landscape of Palm Springs, California, where the sun kisses the desert and the city thrums with ...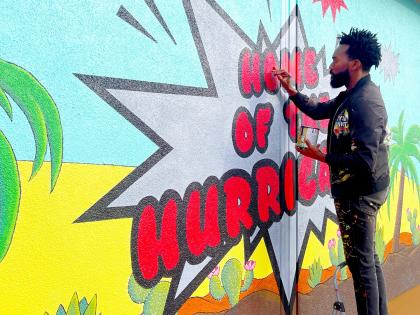 Next
In the vibrant landscape of Palm Springs, California, where the sun kisses the desert and the city thrums with vitality, Tysen Knight emerged as an emblem of artistic innovation. His canvas wasn't confined to studio walls; it spanned the entire urban landscape. Knight's art is raw, potent, and often provocative, challenging societal norms and pushing the boundaries of convention.
Knight's journey is a relentless quest to redefine urban artistry. By day, he painted the city, leaving his mark on urban surfaces and captivating art enthusiasts. By night, he captured his life and art on film, crafting a dynamic portrayal of his existence.
Tysen Knight's voyage to artistic success is intricately woven with the invaluable support of several entities that have been instrumental in shaping his path. Among these, the Art Foundation of Desert Hot Springs stands tall, offering a nurturing environment that propelled Tysen's artistic evolution. The Palm Springs Public Arts Commission, with its guidance and resources, provided a crucial platform for his creativity to flourish. Additionally, the AmDocs Film Festival, through its recognition and collaboration, played a pivotal role in amplifying Tysen's artistry and mentorship. The collective efforts and unwavering encouragement from these organizations and individuals have not only fortified Tysen's ambitions but have also laid the foundation for his extraordinary journey.
Inspired by films like "Exit Through the Gift Shop" and "Style Wars," Tysen Knight's story takes us on a whirlwind journey through the glamorous and gritty lanes of artistry. What sets him apart is the authenticity he injects into every piece. His work echoes Basquiat, whispers of Warhol, and embodies Picasso, creating a unique Knight flair that demands attention.
Stepping into Tysen Knight's vibrant gallery, one is struck by bold hues, stark contrasts, and emotions reverberating at full volume. His creations blend graffiti, pop art, and abstract expressionism, exuding the unpredictable essence of visual jazz. Each stroke and color choice narrates a story, a reflection of his African-American heritage and urban roots, honoring his personal odyssey.
In the dynamic world of street art, Tysen Knight isn't just an artist; he's both the master and the rebel. His evolution from Palm Springs streets to the silver screen is nothing short of legendary, akin to a superhero's journey armed with a paintbrush instead of superpowers. His legacy urges us to pour our souls into our passions, to hustle relentlessly, and to do so with sincerity and wit.
So, when life presents choices, recall the audacious spirit of Tysen Knight. Embrace your figurative brush and unique talent; adorn the world with your aspirations. Knight's story reminds us: that existence is a blank canvas, awaiting our magnum opus. Amidst conformity, be the bold stroke of individuality, the daring splash of creativity, and the unapologetic statement of your unique journey. Be the Tysen Knight of your own story.
 
Open in app