Has Adele confirmed she is married to Rich Paul?
By IANS | Published: November 21, 2023 11:33 AM2023-11-21T11:33:54+5:302023-11-21T11:35:04+5:30
Los Angeles, Nov 21 Grammy-winning singer Adele appeared to have directly confirmed her wedding to sports agent Rich ...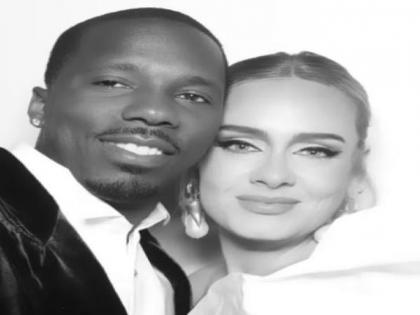 Next
Los Angeles, Nov 21 Grammy-winning singer Adele appeared to have directly confirmed her wedding to sports agent Rich Paul.
Fellow audience members told Deuxmoi that Adele made the revelation when attending her best friend's comedy show in Los Angeles alongside her husband, reports aceshowbiz.com.
"I was at Alan Carr's comedy show in LA tonight and Adele was in the audience. Alan asked the crowd if anyone got married recently and Adele shouted 'I did'," a source told a gossip blogger.
Another audience member backed the account. Of the "small and intimate" show, the audience member shared, "When he asked if anyone got married recently, she yelled 'I did'. Super cute all around and was super sweet but dipped right before it ended."
It was also said that the 'Easy on Me' hitmaker had "the best time" during the show as "her security only came in to bring her snacks. She didn't care if people knew she was there. She was heckling him - they're best friends."
While this might be the most obvious hint from Adele, the singer has been fueling her marriage rumours with Rich for some time. Last month, the British singer could be seen wearing what seemed to be a wedding band that had a sparkling massive emerald cut diamond in some pictures from her shows.
She also called Rich her "husband" during her Las Vegas residency show.
In a viral TikTok video, she could be heard telling one of her female fans, "You can't marry me. I'm straight, my love. And my husband's here tonight."
Another report, meanwhile, revealed that Adele prepared an ironclad prenup before exchanging vows with Rich. The 35-year-old pop star's friends allegedly "convinced" her to protect her $220 million fortune before the pair walked down the aisle.
"Adele has a few trust issues, which is normal for her, but bringing up a marital contract caused some friction between them," an insider told the National Enquirer, via Radar Online.
"She believes in love, and she says talking about anything to do with money is a sure-fire romance killer. She was right," the source continued, noting that the prenup was a "touchy subject."
Her fortune included the money she made from the Las Vegas residency, four albums which have raked in $31 million in sales, as well as an extra $34 million in digital singles. Adele also made hundreds of millions of dollars from her tours and her real estate portfolio.
Disclaimer: This post has been auto-published from an agency feed without any modifications to the text and has not been reviewed by an editor
Open in app