Microsoft appoints Aparna Gupta as Global Delivery Centre leader
By IANS | Published: November 21, 2023 05:11 PM2023-11-21T17:11:17+5:302023-11-21T17:15:05+5:30
New Delhi, Nov 21 Microsoft on Tuesday announced the appointment of Aparna Gupta as the Global Delivery Center ...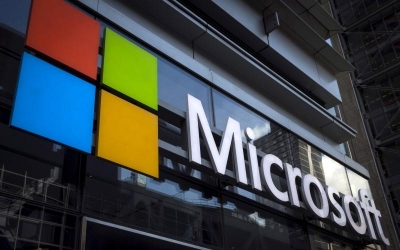 Next
New Delhi, Nov 21 Microsoft on Tuesday announced the appointment of Aparna Gupta as the Global Delivery Center (GDC) leader, which is a part of the Industry Solutions Delivery and the broader Microsoft Customer and Partner Solutions (MCAPS) organisation.
In her new role as GDC leader, Gupta will oversee customer innovation and delivery excellence, cloud growth acceleration with top-tier talent, industry depth and partner ecosystem.
"I am looking forward to working with the teams at GDC to deepen technical expertise across solution areas and build a strong team culture with an aim to deliver excellence to our customers. There is a strong foundation within the team, and I hope to build further on it to take it to the next level," Gupta said in a statement.
She joined Microsoft six years ago as the India lead for Commercial Software Engineering (CSE), now ISE. Over the years, she has made a positive impact on the business, such as establishing the Customer Success Unit (CSU) as a new segment in MCAPS India, Microsoft said.
"With more than 25 years of industry expertise and extensive Microsoft experience, coupled with her ambition and unwavering leadership, I have no doubt that Aparna will lead our GDC team to continued success," said Maureen Costello, Corporate Vice President, Microsoft Industry Solutions Delivery.
Established in Hyderabad in 2005, Global Delivery Center (GDC) is the delivery arm of Industry Solutions Delivery and has since scaled to two more locations -- Bengaluru and Noida, along with a global presence.
Gupta will work closely with the team to continue supporting customers in their digital transformational journey.
"Her extensive experience and deep knowledge of Microsoft technologies will help customers plan and deploy future-ready solutions, especially in the age of AI, and maximise the value of their investment in Microsoft," said Puneet Chandok, President, Microsoft India and South Asia.
GDC includes four Centers of Excellence (CoE) in Apps Innovation, Data & AI, Infra & Security, and Business Applications, along with functions like Partner & Delivery Management and Adoption Management.
Disclaimer: This post has been auto-published from an agency feed without any modifications to the text and has not been reviewed by an editor
Open in app