Oh Dilli, you are so dark!
By IANS | Published: November 21, 2023 07:07 AM2023-11-21T07:07:13+5:302023-11-21T07:10:08+5:30
New Delhi, Nov 21 What is special about filmmaker Dibakar Das Roy's movie 'Dilli Dark', which will have ...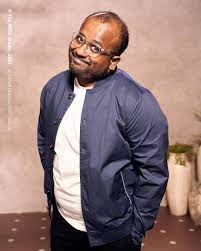 Next
New Delhi, Nov 21 What is special about filmmaker Dibakar Das Roy's movie 'Dilli Dark', which will have its international premiere at the 27th Tallinn Black Night Film Festival in the 'First Features Competition', is not just the fact that it manages to bring forth the many shades of the capital city towards an 'outsider', but does that with an underlying humour without trivialising a sensitive subject.
Revolving around a Nigerian man, Michael (played by Samuel Abiola Robinson) studying in Delhi, who sells cocaine at night and is subjected to racial slurs and a distinct gaze owing to his skin colour, the film sees him getting attracted to a 'god woman', played by Geetika Vidya Ohlyan of 'Soni' fame whose ashram he joins in order to find himself. However, he soon realises that all she wants from him is cocaine.
The director tells IANS that the film was conceived as an amalgamation of ideas that stemmed from personal experiences including being bullied for having dark skin as well as events that happen in Delhi -- racial prejudices against Africans and other dark-skinned people -- that brought together themes of race, colour and identity.
"The various themes have developed over the course of a decade, but which took approximately two years to come into the form of a screenplay," he recalls.
While several Indian films have taken up the caste problem in the country, not many have dwelled on the issue of colour.
Roy feels that while colour, race and South Asian identity are seldom part of the narrative in Indian movies, he wanted the audiences to receive a serious message in a non-serious tone, which would incite them to ask themselves questions rather than someone preaching to them.
Talk to him about his relationship with Delhi, and he says that while he loves yet he has a toxic relationship with it.
"It is a beautiful city with a rich history and an unparalleled cultural tapestry. However, it can be extremely crude. It is this mix that has tried to depict in the film."
For someone who from a young age has been writing, directing and acting in plays, cinema was a natural extension of his desire to create performance-based narratives.
Recalling that it was casting that took a lot of energy, the director recalls that they auditioned and held workshops for even the roles with one or no dialogues. A very important facet of the casting was the faces, which also became an essential aspect of the production design and the mise en scene.
"Also, an important part of the casting was finding the African cast, right from established actors such as the lead Samuel Robinson, who have delivered hits like 'Sudani from Nigeria', to the non-actors who we used for the smaller parts. It was an interesting exercise in casting as this was probably the first Indian movie with such an extensive African cast," says Roy.
Using satire to project racial discrimination in the film, the director feels that it can be an excellent tool as it employs a disarming charm and not brute force.
"It asks but does not tell. It helps the audience see the wrongs in society without making them feel defensive or like an antagonist," says Roy, who wants to explore themes of spirituality, consumerism, love and politics but all through the lens of a darkly comic eye.
A self-taught filmmaker, he does not really miss formal training.
Stressing that his sources of inspiration and approach to craft are derived from varied sources, he adds, "I feel that the structure of film school would have shaped my approach with a hand that may have been too firm."
(Sukant Deepak can be reached at sukant.d@ians.in)
--IANS
sukant/khz
Disclaimer: This post has been auto-published from an agency feed without any modifications to the text and has not been reviewed by an editor
Open in app