UP BJP MPs search for options as party reviews their performance
By IANS | Published: November 21, 2023 03:07 PM2023-11-21T15:07:51+5:302023-11-21T15:10:04+5:30
Lucknow, Nov 21 At least a dozen BJP MPs from Uttar Pradesh have started searching for options outside ...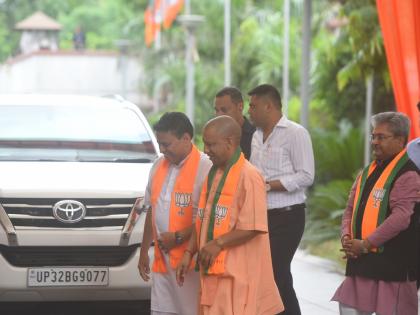 Next
Lucknow, Nov 21 At least a dozen BJP MPs from Uttar Pradesh have started searching for options outside the saffron party to contest the 2024 Lok Sabha elections.
These are the MPs who have 'sensed' that they may be denied tickets either on grounds of age or poor performance.
"The party has constantly been sending party leaders to my constituency to get 'feedback' and I have neither been contacted nor consulted about this. Naturally, I get a feeling that I am not in the good books of the party leaders because I have refused to suck up to them on a couple of occasions. I will not stand guard on their every visit because I have my commitments to my voters first," said a MP from east UP.
Apparently, a senior minister had visited his constituency in June but the MP chose to attend the cremation of the father of his worker instead of being present at the minister's felicitation programme.
The minister conveyed his displeasure on the issue to top party leaders. Another MP who turned 73 this year, has been 'vaguely informed' that he may not get a ticket because of his advancing age.
"The rule is applicable only to some while others – who are in the good books of leaders—are exempted. I cannot continue with this uncertainty and I have already opened channels of communication with other parties," he admitted.
BJP MPs in UP who would be touching or crossing the 75-age limit by next year include Santosh Gangwar (Bareilly), Hema Malini (Mathura) and Satyadev Pachauri (Kanpur).
Meanwhile, UP BJP chief Bhupendra Chaudhary said on Monday that the party would soon start the process of taking feedback about performance of party MPs in the run up to 2024 Lok Sabha elections.
The process has become an essential practice for the party over the years to assess the winnability of its candidates before an election.
However, he junked speculations that a host of BJP MPs are hobnobbing with Opposition parties, essentially the Congress and the Samajwadi Party, amid apprehension that they might be denied a ticket in the next general elections.
"BJP does not approve of such speculations and rumours. The party has full faith in its MPs and stands steadfastly behind them. The party leadership will take decisions after due consultation," he said.
Experts said BJP has sought to assess its MPs on multiple parameters, including implementation of public welfare schemes initiated by the Centre and the state government in their respective constituencies. The evaluation will be compiled into reports to be shared with the central leadership which would eventually decide the fate of MPs. The process, sources said, is expected to be completed by January.
Disclaimer: This post has been auto-published from an agency feed without any modifications to the text and has not been reviewed by an editor
Open in app