Honda Racing India's Rakshith Dave to represent India at Asia Talent Cup 2024
By IANS | Published: November 21, 2023 03:44 PM2023-11-21T15:44:32+5:302023-11-21T15:45:12+5:30
Gurugram, Nov 21 Rakshith Srihari Dave, a 15-year-old rider from Chennai, has taken a significant stride towards global ...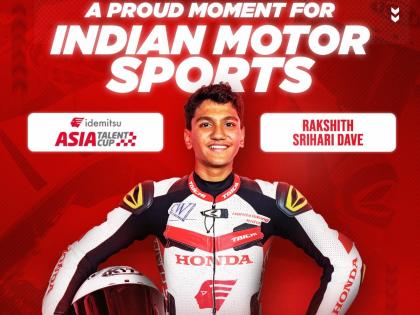 Next
Gurugram, Nov 21 Rakshith Srihari Dave, a 15-year-old rider from Chennai, has taken a significant stride towards global racing and is all set to represent India at the prestigious Asia Talent Cup 2024.
The selection event unfolded at the iconic Sepang Circuit in Malaysia where a group of 89 riders embarked on the journey to earn their spot in this challenging competition. Out of them, only 41 riders demonstrated remarkable skills, determination, and promise that took them to the final stage of the competition.
In a testament to his incredible talent and commitment to the world of motorcycle racing, Rakshith Dave earned his spot in the Asia Talent Cup 2024 along with 10 other riders from different Asia-Oceana Countries.
As many as 20 full-time riders are set to race in the 2024 season of IATC, hailing from ten countries: Australia, China, Chinese Taipei, India, Indonesia, Malaysia, the Philippines, Thailand, and Vietnam.
Rakshith was identified first at Idemitsu Honda India Talent Hunt program in 2018 at very young age and trained under Honda Racing Academy. He started his professional racing career in 2019 in CBR150R category and secured Second Runner-up & First runner up in 2020 & 2021 respectively.
He was upgraded to NSF 250R category for 2022 Season. This year too he has won First Runner up position in Honda NSF250R category.
"This has always been my dream, and I am excited that it has come true. I thank Honda Racing India for giving me this opportunity to represent our Indian team on the global platform. It will be a great platform as it will bring new experiences and learning to my career in motorsports. At this point, I am focusing on enhancing my skills along with our trainers.
"Now, I will be working on my techniques, understanding the NSF250R machine better, and testing all its capabilities to achieve better results in each round. As the solo Indian rider, I will give my best to bring laurels to our team and country." said Rakshit.
Elaborating on this achievement by Indian rider, Yogesh Mathur, Director, Sales & Marketing, Honda Motorcycle & Scooter India said: "This is another proud moment for Honda Racing India to have Rakshith Dave as one of the contenders in the 2024 IDEMITSU Asia Talent Cup. Since 2019, three riders from Honda Racing India have achieve this recognition, and now Rakshith has made it possible through his strong zeal."
"This development is a testimony of our commitment to nurture and develop the next generation of iconic Indian riders for the world. We are elated that young Indian rider is making the transformation happen. Rakshith has already proved his passion for motorsports in the Honda India Talent Cup, and we are confident that he shall deliver his best and set new records at the international platform under the guidance of Honda's experienced trainers."
Disclaimer: This post has been auto-published from an agency feed without any modifications to the text and has not been reviewed by an editor
Open in app