Pune: Car submerges in Nira Devghar dam, three feared drowned
By Lokmat English Desk | Published: July 29, 2023 05:39 PM 2023-07-29T17:39:06+5:30 2023-07-29T17:40:12+5:30
Tragedy at Nira Devghar Dam as car submerges in Varandah Ghat, one rescued, three missing. Landslides in Pune prompt road closure. Caution urged amid heavy rains. Passengers from Rawet en route to Konkan affected.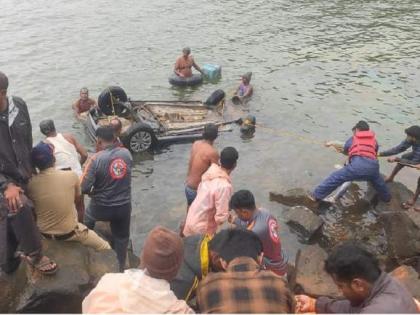 Next
Tragedy struck at Nira Devghar Dam as a car carrying four passengers submerged in the waters at Varandah Ghat early morning. The occupants, three men and a woman, were on their way when the unfortunate incident occurred. While one person was successfully rescued, three others are still missing, raising fears of drowning.
Authorities immediately responded to the emergency, dispatching teams from the Government Disaster Management Cell, Sahyadri Rescue Team, and Bhoiraj Mandal members, along with the police, to the accident site.
In the meantime, heavy rains have triggered landslides in several parts of Pune, including the Ghat region. As a result, the Varandah Ghat connecting Pune-Raigad district has been temporarily closed to traffic for safety reasons. Despite this, some citizens are taking risks and attempting to travel on the road, leading to tragic consequences.
Preliminary information indicates that the passengers hailed from Rawet and were possibly en route to Konkan via Varandah Ghat. The incident serves as a solemn reminder of the dangers posed by the inclement weather, urging caution and adherence to road closures for the safety of all travellers.
Open in app