A golden opportunity lost!
By Vijay Darda | Published: November 20, 2023 07:03 AM 2023-11-20T07:03:36+5:30 2023-11-20T07:04:07+5:30
One team wins, the other is defeated but the spirit of the game is more important than the game ...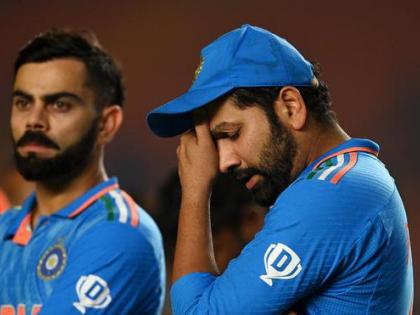 Next
One team wins, the other is defeated but the spirit of the game is more important than the game itself. Heartiest congratulations to both the teams!
The Indian team's determination was invincible and 140 crore Indians expected it to win the World Cup! In this background, it is difficult to digest the defeat of the Indian team, but that is the reality. All players in form, one win after another and the final ends up being such a big shocker! It is a painful story of a golden opportunity lost. It is normal for the winner to feel overjoyed, and the loser to be unhappy, but I have always felt that losing is a necessary part of the winning process. Only in defeat does the spirit of victory emerge. More important than victory and defeat are the methods of the game, its spirit and the basic principles. Both sides deserve congratulations in this regard. You must remember that sporting spirit in the semi-final match when Kohli hugged New Zealand captain Kane Williamson. Talking about sportsmanship, I am reminded of the England team which did not fail to taunt India. On the one hand, cricket is termed as a gentleman's game and on the other, you taunt us? Without giving in to pressure, India told the progenitor of cricket that once upon a time you ruled us, but today we are ruling you.
Certainly, reaching the final of the World Cup was not at all easy for any team. Australia and India made it to the finals because of their superiority in sports. As far as India is concerned, the reason behind reaching this point was hard work, dedication, self-confidence, discipline, training, dedication and an indomitable desire to win. The reality is that in any field of life, be it sports, business, technical expertise or politics, these qualities are necessary everywhere. Whether you want to hoist the flag on the Himalayas or dive into the ocean, you also need an inquisitive nature and a Guru. But achieving the goal becomes difficult even if you lack any one of these qualities. If even small countries remain on top in the medal tally right from Olympics to Asiad, it is the result of their dedication.
I have seen cricket becoming a religion in this country. I have seen Tendulkar become the God of cricket. The legacy has been passed down from Maharaja Ranjit Singh to C K Naidu, Mushtaq Ali to Gavaskar, Saurabh Ganguly and Mahi. There are many to name. What I mean is that we've never been short on talented players. It is the resources that we lacked. I've seen children from small villages in Kashmir valley to elsewhere in the country play cricket despite the lack of resources. Imagine what level Indian cricket would reach if gurus and coaches for fielding, bowling, batting and keeping were made available from school to college level! With $2.25 billion in assets, India's Board of Control for Cricket in India is the richest cricket board in the world. If the government and BCCI so desire, every village can have the best of resources.
As far as other sports are concerned, we have a historical heritage. The youth of Hanuman Akhada, Yavatmal of which I am the president today, had gone to perform Malkhamb in the Olympics along with the then president Kane Saheb. Even Hitler was astonished to see the amazing feats of the wrestlers. He even praised the wrestlers. I feel that if India has to be taken to the top in other sports too, the corporate sector should be involved in it with vigour. If there is tax exemption, the corporate world will happily come forward. Every school should have such a system in place so that a child's abilities for a specific sport can be identified during childhood. Coaching should be provided accordingly. Many politicians have worked with sports organisations to strengthen them, but there have also been politicians who have made the organisations their fiefdoms. It is critical to remember that there should be no politics with the deserving players. There should be enough resources so that no PT Usha is forced to run without shoes, no Mary Kom has to struggle financially and no Anjali Bhagwat has to struggle to participate in the shooting event! Today, we are praising Mohammed Shami and rightly so but it should also be ensured that no future Shami should have to run from pillar to post in a strange city for coaching.
Most significantly, we must provide children with playgrounds. While granting authorisation to open a school, it must be ensured that there are playgrounds. Encroachment on playgrounds will have to be classified as a serious crime. Parents must ensure that their children reach the field since children are so preoccupied with academic coaching that they pay little attention to sports. The situation can improve if we all work together.
Open in app