Best Agrolife Ltd. Enters Into an Agreement with Syngenta for Pyroxosulfone 85 per cent WG Herbicide Movondo
By ANI | Published: September 18, 2023 02:19 PM 2023-09-18T14:19:29+5:30 2023-09-18T14:20:03+5:30
NewsVoir New Delhi [India], September 18: Best Agrolife Ltd. (BAL), India's fastest-growing agrochemical company, today announced that it has ...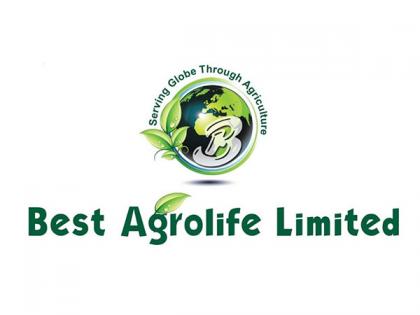 Next
NewsVoir
New Delhi [India], September 18: Best Agrolife Ltd. (BAL), India's fastest-growing agrochemical company, today announced that it has inked an agreement with Syngenta for the marketing of Pyroxosulfone 85% WG herbicide under the brand name Movondo. 
Pyroxasulfone is a pre-emergence herbicide for wheat, corn, and soybean that ensures increased yields while offering outstanding crop safety by eliminating weeds that pose a threat to these crops. It is more effective against broadleaf weeds and requires fewer applications than other commercial herbicides. Pyroxasulfone 85% WG controls the primary troublesome weed in wheat, Phalaris minor.
Syngenta is a global leader in crop protection and seeds, with a significant global share of the herbicide and commercial seed markets. This agreement will help both companies maximize the value of the new herbicide and efficiently establish a market for the product. The Pyroxasulfone market is worth over 450 crore, and BAL plans to achieve 300-350 crore of the Proxysulfone market in the next three years.
Previously, India imported Pyroxasulfone from foreign nations, but after gaining registration for the local manufacturing of Pyroxasulfone 85% WG. BAL has become the first Indian agrochemical business to manufacture Pyroxasulfone 85% WG locally. Seedlings India Pvt. Ltd., one of the wholly owned subsidiaries of BAL, will produce it under the Indian government's 'Make in India' initiative. 
What truly distinguishes this deal as a groundbreaking development, showcasing the substantial influence of the 'Make In India' initiative on the global stage, is the unprecedented reversal of the conventional supply chain dynamics. Prior to this, multinational corporations have typically supplied key chemical compounds to Indian agrochemical companies. However, this deal marks a pivotal shift, as it signifies the first instance of Indian agrochemical companies taking the lead by exporting these molecules to their multinational counterparts.
It is worth mentioning that BAL has also been granted a 20-year patent for a revolutionary invention of a Synergistic Pesticidal Composition that includes two insecticides and a fungicide to address some of the most pressing challenges in rice cultivation. 
BAL is a research-based company focused on bringing world-class and cost-effective crop solutions in the form of novel agrochemical formulations to the agricultural industry for improving crop productivity. Currently, BAL has 7,000 MTPA and 30,000 MTPA technical and formulation manufacturing capacity -respectively through three of its manufacturing plants in Gajaraula, Greater Noida, and Jammu & Kashmir. It boasts to have more than 7000 distributors in lndia and it retains an unrivalled portfolio of 450+ formulations and more than 115+ technical manufacturing licenses.
(ADVERTORIAL DISCLAIMER: The above press release has been provided by NewsVoir.will not be responsible in any way for the content of the same)
Disclaimer: This post has been auto-published from an agency feed without any modifications to the text and has not been reviewed by an editor
Open in app